June 23, 2018
CRPF Employees Can Check Salary, PF Details Via UMANG App. Details Here
Now through UMANG App, CRPF employees can avail salary details, GPF (General Provident Fund) details, and other related services easily, said Minister of Electronics and Information Technology, Ravi Shankar Prasad on microblogging website – Twitter. UMANG App offers 220 services from 55 departments in 11 states, further said the Union minister's tweet. UMANG (Unified Mobile Application for New-age Governance) is an app which facilitates government services. The app is available on Google Play, App Store and Windows Store and can be explored on multiple channels such as smartphones, desktops and tablets.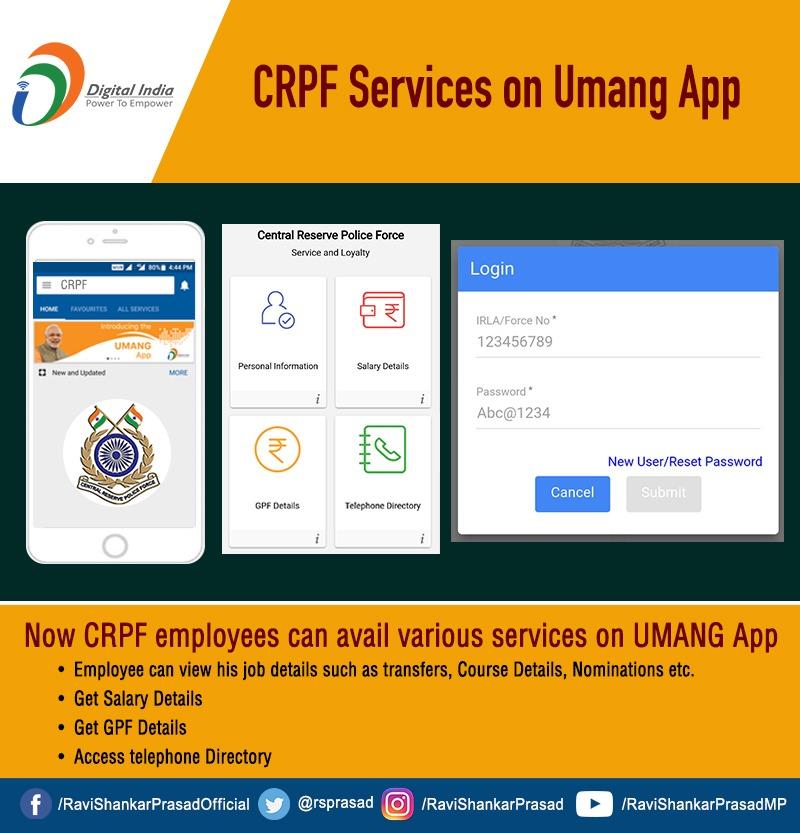 By using Umang, CRPF (Central Reserve Police Force) personnel can avail a host of services, such as:
Personal Information: CRPF employees can view their personal details registered with CRPF such as dependent, nomination, course, transfer, and punishment details.
Salary Details: CRPF employees can view and download their monthly salary slips in PDF format. Salary slips of last 3 financial years will be available in this section.
GPF Details: CRPF personnel can view and download their GPF (General Provident Fund) details for last 3 financial years in PDF format.
Telephone Directory: CRPF employees can check contact number, email address, phone number, and address of CRPF officers using this service.
Reach unit head office: CRPF department user can directly reach out to their UNIT head office to share their feedback by email. They can even request for a change in their current data by using this service.
Umang also helps (Employees' Provident Fund Organisation) EPFO subscribers access all services of the retirement fund body. Subscribers can raise provident fund (PF) claims via Umang app and view their passbook and also initiate an enquiry about their PF balance.